REDDIT AMA SESSION: LUDVIG FORSSELL, COMPOSER – AUDIO DIRECTOR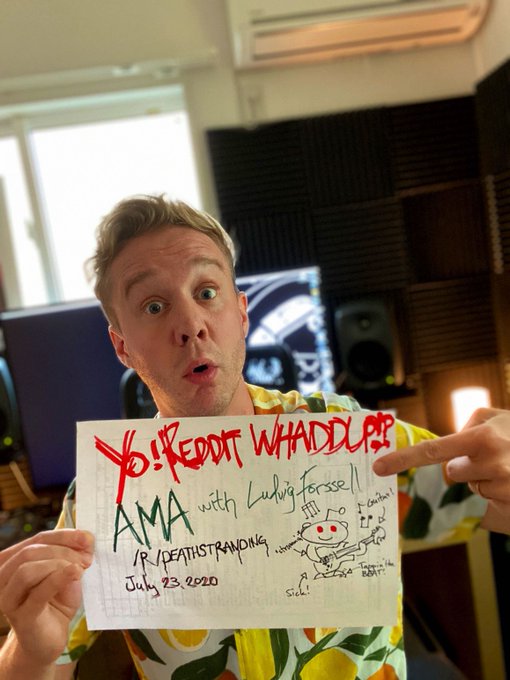 We recently ran our second Community Reddit AMA (Ask Me Anything) session with Ludvig Forssell, Composer – Audio Director at KOJIMA PRODUCTIONS.
As we've mentioned already, DEATH STRANDING is all about connections, bringing people together and bridging gaps. Ultimately, that is what these Ask Me Anything sessions are all about, an opportunity to bring the community closer to KOJIMA PRODUCTIONS.
Check out some of the best questions below from Ludvig's session and head on over to Reddit for the full AMA.
COMMUNITY QUESTIONS
USER: mindfulotaku
Q: What emotion best describes the mood of BB's theme?
A: Well, there was a hope for it to invoke feelings of nostalgia while also being sad and in some way make you hopeful, make you feel like you can experience loss or a tragic past but be strong enough to move on. All of these are concepts that I don't feel super comfortable trying to convey or put myself "out there"/open up myself about, so it was very hard for me to really let go and try and use these emotions for the song… I do hope it came across!
USER: KakkaKarrotKake007
Q: Hey, absolutely loved your work on DEATH STRANDING. What advice do you have for a complete beginner when it comes to making their own music?
A: Hello and thank you. As a beginner I highly suggest you try to create something you're proud of. Now, it might not be pro-level quality but finishing something you're proud of and not starting and giving up on idea after idea is the road to self-improvement. From there you'll get more interested in new techniques to further that "finished" work and you'll keep improving. There's so much to learn in this craft so chipping away at personal goals is important.
USER: Nitroid
Q: Can you tell us a bit about what your day-to-day experience is like at KOJIMA PRODUCTIONS?
A: Well, nowadays it's literally wake up, walk over to my studio room and sit in front of the computer all day, haha. It's very different depending on the phase of production; early on you're conceptualizing so you're not producing as much and things like motion capture or meetings might be a bigger focus. When we were in full production I spent about half my time in Japan writing and working with the other devs on implementation and seeing where the game was going and the other half in the states going to recordings and working with the sound design team over there. Towards the end (last 6 months or so?) it was less writing and more finishing up mixes (this also meaning flying back and forth to the States) and ironing out bugs while keeping all sides' (languages) communication flowing.
USER: Cignul
Q: Amazing job on the soundtrack, I'm continually impressed by it. Was it hard to get the music lined up with specific parts of the game? I've noticed it automatically plays during chill times / beautiful scenery and also gets super intense during BT encounters which adds to the stress immensely. I was wondering how that was accomplished or if it was a relatively easy thing to do?
A: One of the most important aspects maybe not a lot of people think about is how hard it is and how much work goes into making sure the music score has a natural feeling of progression throughout the journey of a game that takes 30+ hours to go through. I am really happy that we were able to pace this very well for DEATH STRANDING because it's hard. Thankfully, I had a lot of help from the PlayStation music team implementing my score throughout and we spent a lot of time making each situation feel immersive and that the music connecting felt rewarding to the player. Especially with a non-linear game, making sure that the music makes sense no matter what the player decides to do is very important.
ASK ME ANYTHING
Of course, these are just a few of the many questions that were asked during the AMA session. Head on over to the fan-run Reddit page for the full rundown.
Once again, let us take this opportunity to thank the incredible DEATH STRANDING community for their support, the amazing team of Moderators who allowed us to run this AMA on the fan run subreddit, as well as Ludvig for taking part.
Looking ahead, how about we do another AMA sometime? ?
Stay tuned…
This site is registered on
wpml.org
as a development site.