REDDIT AMA SESSION: AKI SAITO, HEAD OF COMMUNICATIONS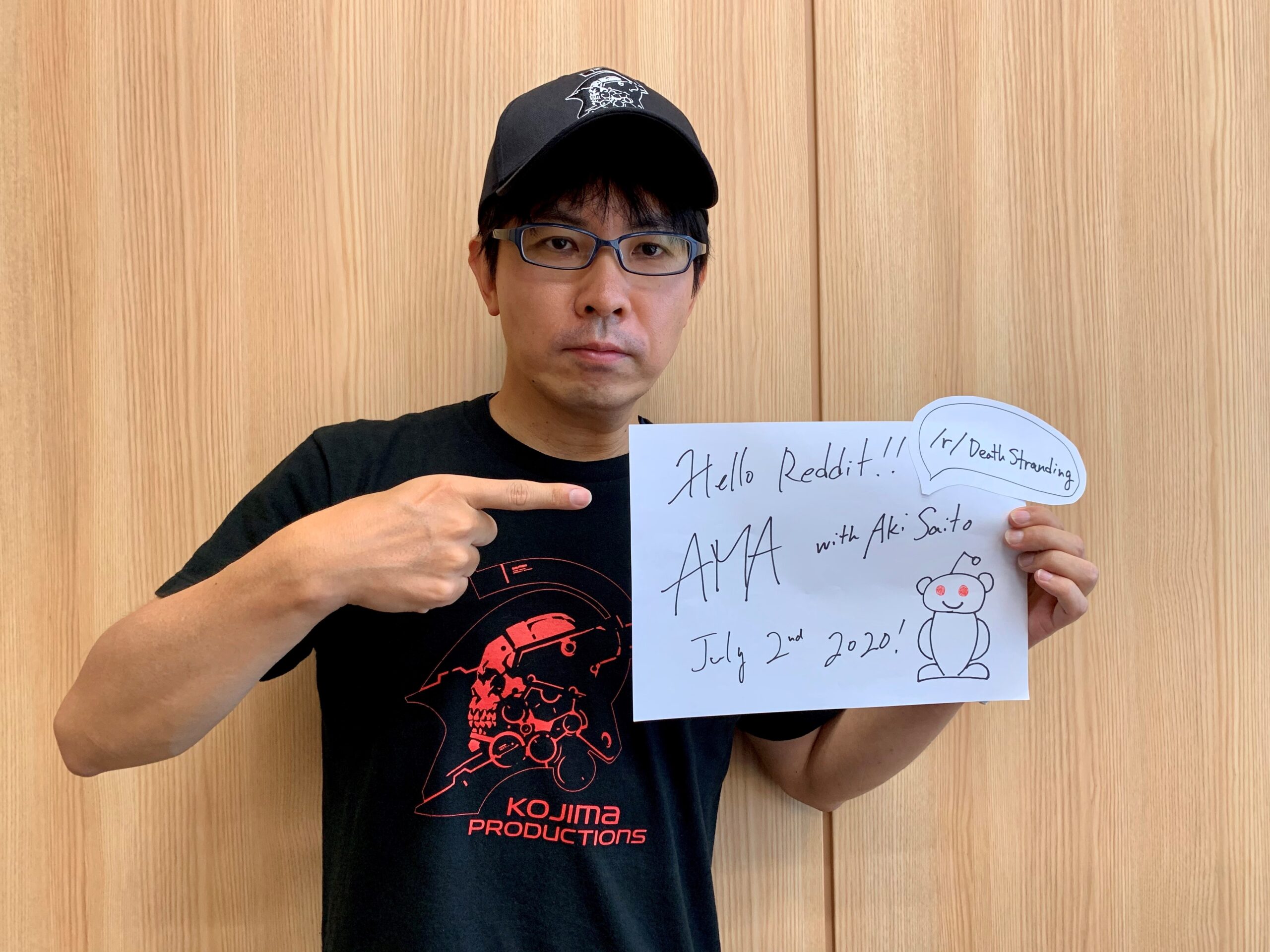 In celebration of our upcoming DEATH STRANDING PC launch on July 14, we ran our first Community Reddit AMA (Ask Me Anything) session last week with Aki Saito, Head of Communications at KOJIMA PRODUCTIONS.
DEATH STRANDING is all about connections, bringing people together and bridging gaps. That was exactly what we wanted to achieve with our AMA, an opportunity to bring the community closer to KOJIMA PRODUCTIONS.
We received hundreds of questions and Aki had a lot of fun answering them! Check out some of our favourites below…
COMMUNITY QUESTIONS
USER: GenoFFooter
Q: I absolutely love Aki. His attitude pre-launch was great and really kept me hyped. Question for Aki: did you get to have creative input or play testing of Death Stranding?
A: Thank you so much! Yes, I played the game in the office as much as I could and at times that was the only thing I was doing all day! Basically, everyone in the team helps play-test, and if there is anything that needs to be flagged, we inform the team members.
USER: iHPorter
Q: I've seen your INCREDIBLE translation, and always wondering how do you do that? How can you remember the words and being so calm and clear? And how many years have you been translating? Also are you responsible of translating the script from Japanese to English? If so, how can you be sure you're translating it as Hideo wants it?
A: Thank you so much! Actually….I never had professional training in translating, but with all the years I've been doing (20 years or so?), it seems like it's one of my good skills now. The most important key to translating is to really know the person and audience you're translating for. That makes it easier for me to understand how someone thinks, or the expectations of what the audience would like to know. And thank you for thinking that I look calm! Because honestly, I am really nervous. Strange to say, I get really, really nervous after I finish a stage or a panel and not during when I am actually translating. My mind is just too busy translating! For the in-game localization, that is worked on by a totally different team, so I am not directly translating them!
USER: flashmedallion
Q: Has the team been enjoying the photography on social media? Lots of games get an extra lease on life with a strong photo mode, and DS has some passionate fans out there. Any stand-out photography subjects or ideas or styles that nobody was expecting?
A: The team totally loves the photos taken by the fans using Photo Mode. #DeathStrandingPhotoMode (Sorry…I just had to put it in there) And yes there are so many photos that we never predicted. Situation photos that are hilarious, or perfectly captured moments. I can say that, in a way, it's really close to actual photography.
USER: BangCryDie
Q: Is there going to be some newly added content to DEATH STRANDING or is it going to be identical to the console port?
A: Yes, there will be some new content featuring the Half-Life collaboration, though I don't want to give away too much.
ASK ME ANYTHING
Of course, these are just a few of the many questions Aki Saito was asked during the AMA session. Head on over to the fan-run Reddit page for the full rundown.
Let us take this opportunity to thank this incredible community for their support, Aki for taking part and the team of Moderators we had on standby to ensure a safe session. This was a lot of fun for all involved. As mentioned by Aki earlier, this won't be the only AMA we'll be doing with KOJIMA PRODUCTIONS. Stay tuned for more info! ?
In the meantime, keep on keeping on!