PORTER TIPS FOR THOSE NEW TO DEATH STRANDING ON PC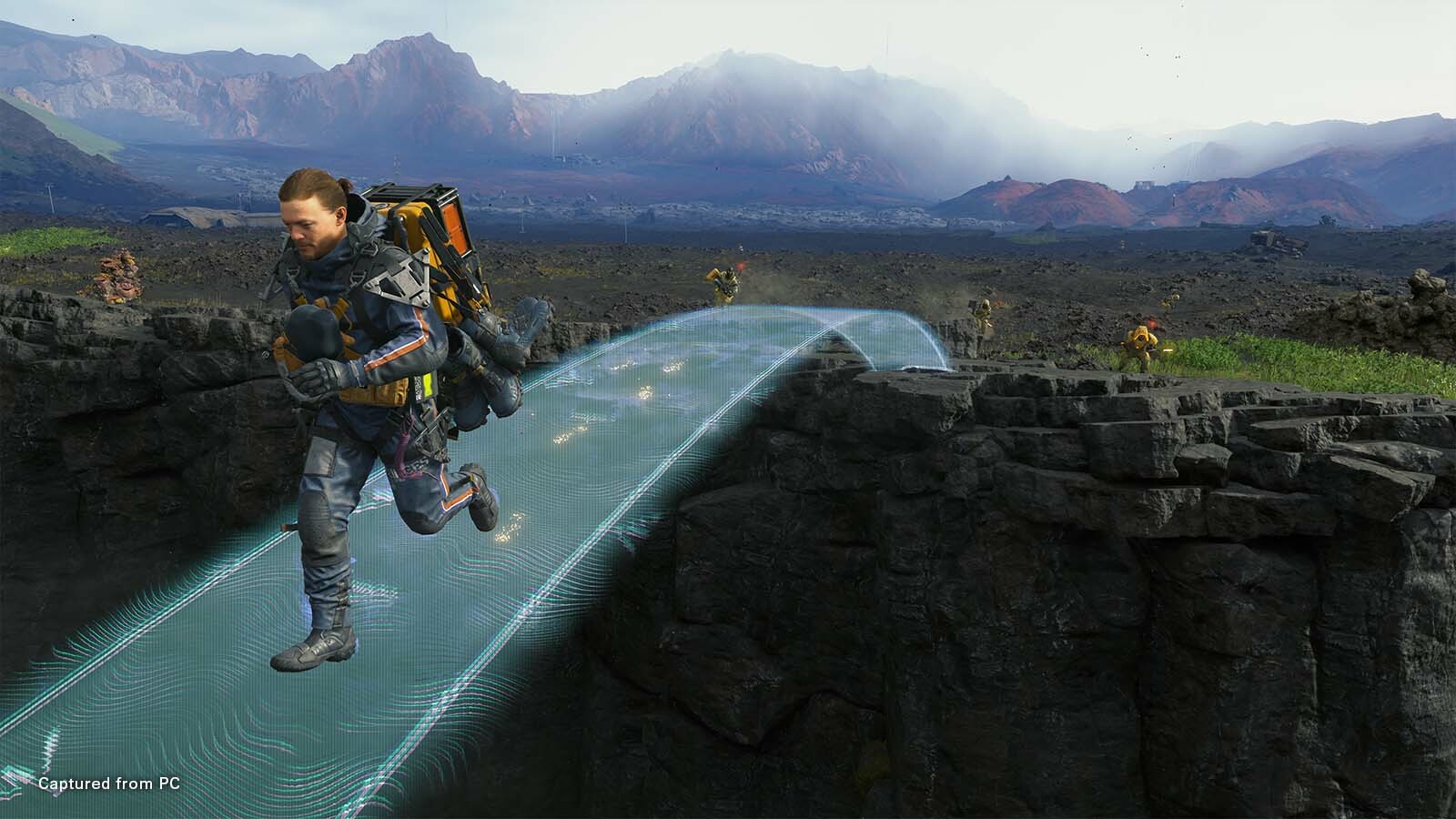 Hi everyone! In our latest Community Blog, we're back with more advice for new players. Earlier this year, we asked the amazing DEATH STRANDING community over on Reddit to share their top tips for those about to jump in-game for the first time.
We received more responses than we can include, so it was difficult to just highlight a selection of them! If you're new to DEATH STRANDING DIRECTOR'S CUT, we hope you find this advice useful. A big thank you to all those who got involved – you're the best!
1 – Buddy Bot – When using a Buddy Bot to transport cargo make sure you are traveling to an area covered by the Chiral Network. If not, it will cease to travel beyond the connected region. Also beware that using one as a means of travel restricts your ranking to an A at best.
Cargo Catapult- While this is intended to be a Cargo Shooting Device, it can be used offensively in very creative ways i.e. setting up traps by dropping some smoke or vog packages in MULE camps or just directly sending Cargo flying straight into them.

The Evolved Thrusters – Remember those days of Sam pitter-pattering down a steep hill with a ton of cargo strapped to his back? Well those days are gone. Now you can just gently glide down to your destination no matter how steep the terrain. Just make sure you have sufficient battery power for your descent or BB will be having a very rough day. (aadipie)
2 – Use your Odradek when crossing streams! It just takes a tiny red area for you to trip and fall downstream. Not that that ever happened to me. The auto-organize is your best friend. Using it will reduce the chance of you falling by a lot. If you organized your cargo correctly, and grab your gear with both hands, don't be afraid to sprint down slopes, you'll save a lot of time that way. (Rabicho)

Credit: Wýstrach
3 – Take your time. There is no rush. Look around, enjoy the scenery. Get lost in the map, not the missions. This game to me is the best when you start choosing missions and things based on what scenery you want to see. The end of the game will come, so enjoy the journey for that is what this game amplifies. (Toxan_Eris)

Credit: The Raving Lunatic
4 – Don't underestimate the sticky gun. I didn't use it until the end of the game, and I really regret that. Make it part of your permanent loadout as soon as you get it. (Exra_)
5 – Craft and use every new piece of equipment you unlock. Try different routes. Avoiding loading through losses and using the in game mechanics for recovery of lost cargo. And most importantly; Likers get Likes. (Mildoze)

Credit: Trithus
6 – It's easier to traverse through the mountains with ziplines rather than trucks because of the rough terrain; and with DEATH STRANDING DIRECTOR'S CUT adding the ability for floaters to stay connected with you through ziplines, it's more justified to use them. (RurouniKukouni)
7 – Use the Odradek scanner to help you go down steep slopes. There are a lot of slopes that look like they're way too steep to go down without Sam falling, but when you analyse the terrain with the scanner it's only the red parts that actually cause Sam to fall – as long as you avoid those you can make it down even the steepest slopes. (ThermalFlask)

Credit: @tisi_BBKanColle
8 – Do timed deliveries whenever possible! There will be times where you wish you had way more stamina than you do now, so instead of getting yourself into these situations, make sure to prepare for timed deliveries and do them whenever you can. It takes a lot to rank them up, so if you make a habit of doing them, you'll be in much better shape. (watchman_5)
9 – Start using zip-lines mid-way through the game and make yourself a delivery network, it will make your journey so much easier, and it will help out fellow porters. They're not really needed in the early areas of the game. (Birkeland1992)

Credit: @luckgustavo
This is just a handful of advice from our amazing Porters! To view all the submissions, head on over to the DEATH STRANDING fan run subreddit:
It's been a few months now since we launched DEATH STRANDING DIRECTOR'S CUT on PC, so we want to take this opportunity to say thank you. Your continuous show of love and support means the world to the team at KOJIMA PRODUCTIONS and 505 Games.
Take care and keep on keeping on!
– Antonela, Director of Global Community @ 505 Games